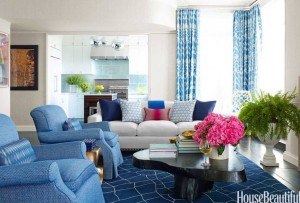 It seems to me the biggest color trend, these days is Blue...outside of Pantone's Radiant Orchid.

Blue of any shade…Aqua, Baby Blue to Navy. Just open up any Veranda, House Beautiful magazine and you'll soon notice that almost every textile ad is predominately the color blue.  I can remember a time not so long ago that the color blue in interiors was taboo.
We've been lightly approaching this cooler color trend for a few years, but now it's a rather strong wave. I think we're in for a real interesting era with the color palette evolving into more cool grays, purples, greens and blues. Nonetheless, whether you're a fan of the color blue or not, I think the popularity of blue is here to stay for awhile…I for one welcome the change.
How do you feel about the color blue used predominately in a space?